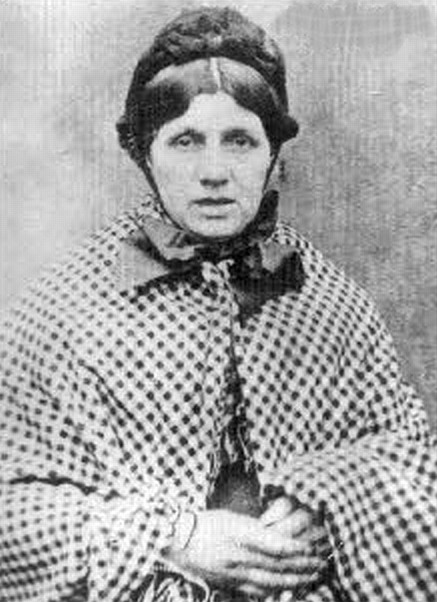 On March 24, 1873, 40 year old Mary Ann Cotton was hanged for the murder of her fourth husband's son, Charles Edward Cotton. She became known as Britain's first serial killer. Inside her killing spree, she left at least 21 humans dead. They included, but may not have been limited to, 11 of her own 13 children, three of her four husbands, her lover, and her own mother. Her hanging was botched and Mary Ann Cotton dangled to her death.
THE STORY OF ENGLAND'S FIRST SERIAL KILLER
Mary Ann Cotton, was born in 1832. Because they were poor, she most likely had a difficult childhood. Her father fell to his death when she was young and Mary Ann was forced to get a job and support the family.
In 1843, Mary Ann's mother married George Stott.  A man Mary Ann did not get along with at all.
Mary Ann found work as a nurse and married her first husband,William Mowbry, in 1852.
JUST ABOUT THIS TIME, DEATH SHOWED UP AND DID NOT LEAVE
While living in Plymouth, Denver, Mary Ann and William had five children. Four did not survive, dying of gastric fever. The couple then moved to North East England. Mary Ann would have, and lose, three more children to death.
Then, in early 1865, Mary Ann's husband succumbed to an intestinal disorder, dying just like his children had died. Mary Ann was left with one child and a handsome insurance payout on William's life.
Later that same year, Mary Ann married George Ward. But he too died, within thirteen months of their marriage, of intestinal problems. Mary Ann collected more insurance money on her second dead husband.
James Robinson, who had lost his wife to death, and was now the single parent of a tiny infant and several other children, hired Mary Ann as a house keeper and child sitter in 1866. Shortly after beginning her employment with James, his infant daughter died. James was devastated and turned to Mary Ann for comfort.
Around the same time that Mary Ann was setting her mind on a new husband, her own mother had fallen ill. Mary Ann took it upon herself to travel to her mother's side. Within nine days of her arrival, despite the fact that her mother was beginning to recuperate and bounce back from her illness, the poor woman was positively dead before Mary Ann headed back to her own life.
And this time she took her daughter home with her, who had been living all this time with her mother.
Mary Ann returned to James' house and her employment. But, by the end of April in 1867, her daughter, as well as two of James' other children, were all dead.
BUT LIFE WENT ON
Despite all of the trauma, James and Mary Ann married that summer.
Mary Ann gave birth to a little girl. She was born in November but quickly fell ill and died in March of the following year. Mary Ann next gave birth to a boy they named George.
Not many years later, James found out that Mary Ann had been forcing her stepchildren to pawn household items for cash. He kicked her out and demanded a divorce. James however gained custody of his son, George, and for this simple move, most likely saved both of their lives.
Mary Ann's forth husband, and the last man to fall victim to her black widow ways, was Frederick Cotton. Inside this marriage, Mary Ann killed not only her husband Frederick, but also Frederick's sister, the child Mary Ann had had with Frederick and Frederick's child from a previous marriage, Charles Edward Cotton.
Mary Ann had also taken on a lover, Joseph Nattass, inside this last marriage but he too fell ill with stomach problems and died right along with the rest of the victims.
BUT THEN SOMETHING STRANGE HAPPENED
After 20 years of family members dropping like flies around Mary Ann Cotton, people started to get a little suspicious.
It is easy to see from a distance how Mary Ann could escape scrutiny in those days. It was recognized, due to substandard living conditions, rotten nutrition for the poor, nearly non-existent record keeping and understandably high infant mortality rates, how poor Ms. Cotton could so easily command sympathy and empathy from those who knew of her horrific, and seemingly constant, state of personal loss.
Until someone said bull shit! And started asking about how so many family members could die with no questions asked and no answers offered.
Arsenic had been Mary Ann's weapon of choice. The poison, that was readily available in those days, was easy to administer but hard to detect.
In March of 1873, Mary Ann Cotton was put on trial. She was officially convicted of the murder of her last husband's child, Charles Edward Cotton. However, in light of all that was brought out during the three day trial, public opinion was that Mary Ann Cotton had murdered far more times than one!
Mary Ann, at age 40, was sentenced to death by hanging.
AND SHE DIDN'T GET IT EASY
Her hanging did not quite go off as smoothly as Mary Ann might have hoped. Seems the drop, below the trap door, was too short and poor, black widow, Mary Ann Cotton, twisted and writhed and jerked until she finally just choked to death. Slow and painful, kind of like arsenic poisoning!
credit – muderpedia / the line up