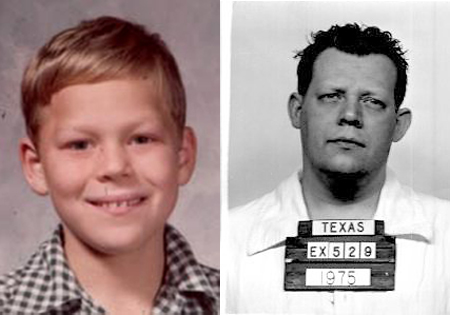 On a rainy Halloween night in 1974, Ronald O'Bryan took his son, Timothy and his daughter out trick-or-treating with several of the kids from the neighborhood near their home in the Deer Park suburb of Houston.
Due to the rain, they were out for less than an hour. Before retiring to bed, Ronald allowed both of the children to have a piece of their Halloween candy.
They both chose a large "Pixie Stix"
Within a matter of a few minutes, little Timothy was crying out in pain for his father. 'Daddy, Daddy, my stomach hurts.'
Ronald later stated, "He (Timothy) was in the bathroom convulsing, vomiting, and gasping and then suddenly he went limp."
Eight year old Timothy died, ninety-minutes later, at the hospital. The following day police had determined the Pixie Stix was full of cyanide.
His little sister, five year old Elizabeth, had also chosen a pixie stix, but she was fine. She was still holding her candy in the morning. She had not been able to open her treat and therefore had not ingested it's contents. When examined, it too was found to contain poison.
The News of the Halloween Candy Death Spread Like Wildfire Across Texas
News that a child had been poisoned to death with Halloween candy freaked all of Texas and the entire country. Authorities warned parents everywhere to destroy the candies gained on Halloween night and not take the risk with their children's lives.
Parents across the nation followed his advice and threw all of their children's candy away.
Some wicked person managed to spoil Halloween for everyone and people were pissed, and scared.
Ronald O'Bryan Helps the Law
During their investigation, officials found that five other children, all of whom had been with the O'Byrans trick or treating that evening, had likewise received the candy stix that were laced with poison. Ronald O'Bryan was enlisted to aid police in their efforts to discover exactly where the pixie stix had come from. Problem was, Ronald couldn't recall the homes they'd visited, even though they had only visited a few due to the rain sending them back home and cutting the night of Halloween very short.
This raised one of the investigators suspicions. He soon learned that Ronald had most recently taken out several life insurance policies on both of his children and that his son, Timothy, was recently insured for $30,000.
Ronald O'Bryan Was Arrested for the Murder of His Son
On Monday, November 4th, Ronald O'Bryan was arrested for the murder of his son.
Two months before his son's death, Ronald called a friend who was a chemist. He was asking about how he (Ronald) could get cyanide. He also asked what a lethal dose might be. When his friend made inquiry as to the need for such a poison, O'Bryan replied that he was just curious.
Ronald O'Bryan tried to purchase potassium cyanide from a chemical salesman but, because he would have to purchase a bulk package of five pounds, he declined.
People Testify Against Ronald O'Bryan at the Trial
On the night of Halloween, friends who went with the O'Bryans and his kids trick or treating, testified that Ronald went up to one of the houses alone. When he returned, he was holding large pixie stix, that he politely passed out to five of the children, including his own son and daughter. (For that move he was charged with 4 counts of attempted murder.)
During his trial, Ronald's own brother told the court that Ronald O'Bryan was in poor financial condition at the time of Timothy's death. His wife also testified against him saying that he (Ronald) bore a constant struggle with debt and financial pressure. She also revealed that her husband had bought $10,000 of accidental life insurance policies for both of their children. After Timothy's funeral, she learned he had spent another $108 on premiums for two more polices valued at $20,000 each. She said she grew a bit concerned and fearful.
Ronald's insurance agent testified that Ronald called him within hours of Timothy's death to begin processing the claim.
The Man who Ruined Halloween Gets Death
On June 3, 1975, "The Man who Ruined Halloween," as he was now being called, was declared guilty of murder after just forty-six minutes of deliberation. The next day, Ronald O'Bryan was sentenced to die in the electric chair.
On March 31, 1984, with the execution method changed to lethal injection, Ronald Clark O'Brya was pronounced dead at 12:48 in the morning.
He maintained his innocence all the way to the end. In an interview before he died, Ronald stated that "Because I have no guilt, I've really got nothing to worry about."
In his final statement, he said he would forgive those who were about to wrong him.
Outside the Huntsville, Texas prison, over 200 people, who had gathered outside the death chamber, stood eating Pixie Stix.
credit – historical crime detective