Robert John Bardo is an American man serving life in prison without parole after being convicted in October 1991 for the murder of actress Rebecca Schaeffer on July 18, 1989, whom he had stalked for several years beforehand.
The Early Life of Robert Bardo
Robert Bardo grew up in Tucson, Arizona, the youngest of seven children and the son of a former Air Force non-commissioned officer and a Japanese national.
Prior to locking his sights onto Schaeffer, Robert Bardo was fixated with pop stars Madonna, Tiffany, and Debbie Gibson.
The Murder
Having previously stalked child peace activist Samantha Smith before her death in a 1985 plane crash, Robert Bardo turned his attention to Schaeffer in 1986. Among his methods were attempts to gain access to the set of the CBS TV series My Sister Sam, in which Schaeffer was then starring.
Ultimately, he obtained her home address via a detective agency, which in turn had obtained it from the California Department of Motor Vehicles. He confronted her at her home, angry at her for having starred in a sex scene in the film Scenes from the Class Struggle in Beverly Hills and thus having "lost her innocence". He visited her at her apartment and told her he was a big fan. She asked him to leave. When he came back, he fatally shot her.
The prosecutor for the state was Marcia Clark, who later became famous as a lead prosecutor in the O.J. Simpson trial, though she made her name in the legal profession with her prosecution of Robert Bardo.
Bardo also carried around a copy of The Catcher in the Rye with him when he murdered Schaeffer. He later learned that Mark David Chapman had also carried a copy with him when he shot and killed John Lennon on December 8th, 1980.
Robert Bardo was housed in a Security Housing Unit (SHU) for inmates with "sensitive needs", including former gang members, notorious prisoners and those convicted of sex crimes.
The Aftermath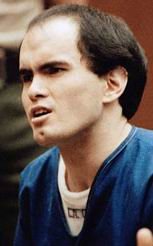 Partly as a result of Robert Bardo's actions, and his means of obtaining Schaeffer's address, the US federal government passed the Driver's Privacy Protection Act which prohibits state Departments of Motor Vehicles from releasing the home addresses of state residents
On July 27, 2007, Bardo, age 37, was stabbed 11 times on his way to breakfast in the maximum-security unit at Mule Creek State Prison in Amador County, California. Two inmate-made weapons were found at the scene.
He was treated at the University of California, Davis Medical Center and returned to prison, officials said. The suspect in the attack is another convict serving 82-years-to-life for second-degree murder.
Credit murderpedia / wikipedia