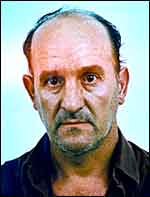 Christos Kendiras
---
Kidnap and Murder
Murderer
Crime Spree: November 4, 2000
A gunman on Saturday released 33 Japanese tourists and surrendered to a television talk show host after hijacking a bus earlier that same day.
Christos Kendiras, 48, surrendered in the Athens port of Piraeus and was arrested by police. Before hijacking the bus, he had killed his mother-in-law and a friend in a village in southern Greece, police said. None of the passengers was injured.
Kendiras turned himself over to TV talk show host Makis Triantafilopoulos outside his office in the Athens port of Piraeus. He was then arrested.
After his surrender, the gunman was seen bowing to the Japanese tourists in television footage supplied by Greece's Alpha Channel, where Triantafilopoulos is the host of a late night talk show that often deals with social problems.
The bus passengers were being taken by police to an Athens hotel.
Alpha showed the gunman giving his shotgun to bus driver Giorgos Tsakonas before leaving the bus. He then went into Triantafilopoulos' office with police officers, where he reportedly made a statement before a television camera.
Kendiras had reportedly been talking to Triantafilopoulos during the afternoon.
Christos Kendiras
The 11-hour ordeal began early Saturday when Kendiras shot and killed his mother-in-law, 77-year-old Georgia Spyrou, just outside the port village of Galata. He then drove into Galata and shot and killed Stamatis Taktikos, a friend he believed was having an affair with his wife. After the shootings, Kendiras drove about 20 miles north to Epidauros, a theater dating from the 4th century BC about 110 miles southwest of Athens.
Once in Epidauros, police say Christos used a container of fuel to set fire to his car and then stopped the passing bus. It was not immediately clear how he stopped or boarded the bus, which was carrying the 33 Japanese tourists as well as a Greek tour guide and the driver.
Armed with a shotgun, Kendiras first ordered the bus to head north toward Athens, but then directed the driver to turn around and head to Galata, where the killings took place.
Reporters from the Antenna and Alpha television channels who spoke to the gunman said he didn't threatened to kill any of the passengers.
At one point however, Christos Kendiras did fire at a patrol motorcycle as it approached the bus, injuring the officer slightly with shards of a shattering windshield.
Earlier, speaking to Alpha by mobile phone, Kendiras appeared agitated and spoke disjointedly about family problems. He said his wife had been cheating on him and he blamed her mother.
"I wanted to kill my mother-in-law. In other words, if I didn't kill her she'd be going in for heart surgery anyway, the people were going to give money for nothing," sad Kendiras, an auto body shop worker originally from the port of Piraeus.
He demanded to speak to his wife, and police attempted to arrange a meeting, authorities said.
Police set up road blocks along the main north-south highway connecting the capital with southern Greece and initially said they would attempt to stop the bus in Corinth, 52 miles west of Athens.
But the hijacker ordered the bus to change routes several times. Throughout the day, Kendiras used a cell phone to stay in contact with a local television station. He told reporters he would kill his hostages one at a time if police did not stop following him.
Before the surrender, heavily armed members of the anti-terrorist squad, two police helicopters, more than 20 police cars, seven motorbikes and several ambulances and fire trucks shadowed and isolated the moving bus. No other vehicles were allowed within more than two miles.
Kendiras finally demanded he talk to popular television show host Makis Triantafilopoulos. In a deal arranged with police, Kendiras agreed to surrender himself at Triantafilopoulos' office in Piraeus and free the hostages.
The two had a drink and a brief talk, then Christos Kendiras was arrested.
Suicide
Christos Kendiras was taken into custody after the 10-hour hostage crisis that ended with his willful surrender. While being escorted to a prosecutor's after he was fingerprinted, photographed and interrogated, Christos broke free of the guard and threw himself to his death from the seventh floor window at police headquarters in Athens.
source: murderpedia
This site contains affiliate links. We may, at no cost to you, receive a commission for purchases made through these links