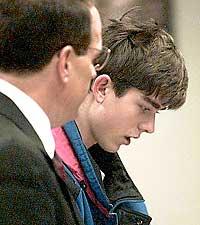 Barry Loukaitis is a convicted American murderer, who killed 3 people in a school shooting at Frontier Junior High, in Moses Lake, Washington on February 2, 1996.
Barry Loukaitis
Loukaitis was born to Terry Loukaitis and Joann Phillips. He spent the early part of his life in Iowa and Minnesota and moved to Washington in fifth grade. His parents owned and operated a sandwich and ice-cream shop in Moses Lake.
Years before the shooting, his father began an affair and his mother became increasingly distant and often spoke of suicide. She frequently implied that Barry would also have to kill himself. In January of 1996, she informed Barry the date of the double-suicide would be Valentine's Day.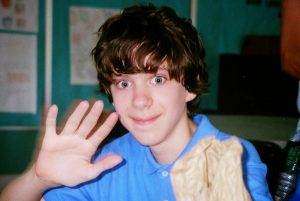 However, it is widely believed and he himself claimed that relentless bullying at the school impelled him to this murderous rampage.
Barry Loukaitis also suffered from clinical depression, which was also present in the last four generations of the Loukaitis and Phillips families. He claimed to have been inspired by the music video for Jeremy by Pearl Jam.
The Weapons and Shootings by Barry Loukaitis
On the 2nd of February, 1996, Barry Loukaitis, then just 14 years old, dressed as a wild west style gunslinger and used a trench-coat to conceal a hunting rifle and two handguns. He was carrying almost 80 rounds of ammunition. Rather than taking the bus, he walked the distance between his house and the middle school.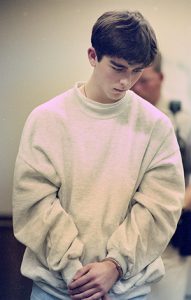 Barry Loukaitis opened fire on his algebra teacher as soon as she opened the door and hit her with one round in the chest. She died immediately, still holding an eraser in her hand. He then fired at students, killing two, one of them a bully to him. He also shot a girl in the arm.
The Arrest and Punishment of Barry Loukaitis
Barry Loukaitis took hostages for a short amount of time, but released the wounded. The hostage situation was stopped when teacher Jon Lane came into the room, assisted in the evacuation of the injured students, then tackled Barry, keeping him there until police arrived.
Barry Loukaitis is now serving two mandatory life terms without parole plus 205 years at Clallam Bay Corrections Center in Washington state.
credit murderpedia