Ronald Bae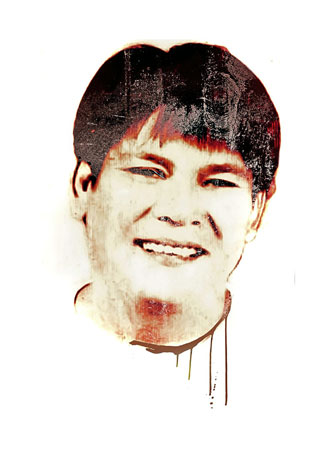 No one could ever know what went on inside the head of Ronald Bae when he casually walked around his neighborhood and fired his gun indiscriminately, taking the life of eight innocent people.
On January 4, around 9 a.m., this closely-knit community, still recovering from the revelry of the New Year past, was greeted by a burst of gunfire. Ronald Bae, clad in a sando and a pair of shorts, had stepped out of his home and had fired on everyone on sight.
Two children, a pregnant woman, a taco vendor and a tricycle driver, who just happened to drop off a passenger in Barangay (village) Tabon I, were among those killed. Twelve others, two of them children, were injured.
The carnage ended when responding policemen shot Ronald Bae dead. Questions however lingered and the nightmare lived on.
Neighbors remembered Ronald Bae in different ways. A few likened him to a community's "Robin Hood," with a solid build and a handsome face that resembled actor Jay Manalo.
Ronald Bae
Ronald Bae was also a former member of the village council until he ran and lost his bid to be the village chief of Tabon I in 2010. His campaign tarpaulin, which bore his alias "bossing," still hung by the front door of a neighbor's home the day he went on a shooting spree.
But others knew him to be the neighborhood bully, who flared up at the slightest provocation.
After the shooting, authorities pulled up records of the 41-year-old gunman, who turned out to be the son of Rodolfo Bae, a former police chief of Imus City, Cavite.
Cavite governor Juanito Victor "Jonvic" Remulla blamed the rampage on the police's failure to act on the villagers' report that Ronald Bae had been indiscriminately firing his gun days before the mass shooting. The Kawit police, however, denied receiving any prior complaint.
But Cavite police director Sr. Supt. Alexander Rafael confirmed that Ronald Bae had been on the police's watch list for illegal drugs. Records from the regional Philippine Drug Enforcement Agency showed that Bae faced charges for possession of illegal drugs in March 2010.
When authorities raided Bae's residence shortly after the shooting, they recovered 3.3 grams of shabu (methamphetamine hydrochloride) and found a .45 caliber pistol, an AK47 and an M16 rifle.
Ronald Bae
The mystery about Bae's real character deepens when one talks to the woman he had lived with for 13 years.
Sporting a tattoo, Maria Elena Bae, 36, is an attractive woman from Lubao, Pampanga whom Bae married in 2008 and with whom he had five children, the eldest being 12 and the youngest, 3. Ronald Bae had two other children from his first marriage.
"He was a good man and father," Elena said, until "he started using drugs again."
Elena and Bae's mother, Tomasa, both denied that Ronald Bae traded in "shabu", although Elena admitted that he had used the illegal drug. The two women said Bae earned a living buying and selling used cars and breeding game cocks.
Ronald Bae bred cocks in a farm in Noveleta, Cavite, but also owned a small poultry farm right across his house in Tabon I. He also had a rest house in Tagaytay City, Cavite.
In August 2012, the family moved into their newly-constructed, two-story home in a hilly village in Guagua, Pampanga. The house in Kawit was left in the care of Bae's helper, John Paul Lopez, 27, a resident of Rosario, Cavite.
Ronald Bae
In an interview at Bae's wake in Imus City, Elena said she never thought her husband would end up killing people. Though they had fights and he sometimes hit her, her husband never aimed his gun at her, she added.
But she admitted that there were instances when Ronald Bae acted strangely, something that she blamed on the effects of drugs. "He would talk to himself. Sometimes his eyes would roll upward," she recounted.
She added that once she saw Bae talking to a wall in their house, and saying things like "I am the devil." He also said he saw shadows peering at him.
The couple had a big fight on December 30th. Elena said Lopez came to visit them in Pampanga and that he and Ronald Bae had drank heavily and used drugs.
"He was jealous of John Paul. I said, 'Oh, no, dad,'" Elena said.
Then Ronald Bae started hitting her on the head. When it looked like he was about to draw his gun, Elena collected their children and barricaded themselves in a room. They stayed there until Bae and Lopez left.
Ronald Bae
"It was as if he had been possessed, as if he had become a demon," Elena recalled.
Ronald Bae and Lopez drove a blue 1998 model Mitsubishi Lancer to Kawit, which the police recovered two days after the mass shooting. Deputy provincial police director Senior Supt. Dionisio Borromeo said the car had been abandoned across a shopping center in Barangay Tabuan I in Silang. Its doors were locked but its rear windshield had been smashed.
According to witnesses, Bae's face looked blank as he shot at his victims with a .45 caliber gun. He was assisted by Lopez, who helped reload the weapon whenever it ran out of bullets. After the shooting, Lopez disappeared. He was turned over to authorities by his relatives on the evening of January 4th.
In an interview at the Criminal Investigation and Detection Group (CIDG) headquarters in Imus City, Lopez claimed he had acted under duress as Ronald Bae threatened to kill him if he did not reload the gun for him.
Lopez said the gunman did not fire his gun down to the last bullet, but "kept one bullet and threatened to use it on me." The authorities, however, did not buy his alibi and charged Lopez with multiple murder and frustrated murder for his "willful" participation in the crime.
Ronald Bae
On that fateful day, Ronald Bae first shot a dog at his neighbor's house. He then shot its owner, 55-year-old Alberto Fernandez, who had looked out from the veranda after the initial shot.
"Bae then walked away casually, without any word or facial expression," said witness Willy Salvador, a resident of the area. He said no one had dared stop the gunman who "fired at anything that moved."
Ronald Bae then walked toward a store, looking for his neighbor, Berto Caimol. Told that he wasn't around, Bae then directed his rage at Caimol's three children. One of them, 7-year-old Michaella Andrea, died.
The shooting drove Maita Lacorte, a relative of the Caimols, and seven others, including four children, to flee towards an open rice field. "As we ran (and sought cover in the cogon grass), I told the children not to make any noise. They cried quietly," Lacorte recalled.
Based on the residents' accounts, the gunman had walked approximately 200 meters from his home to a public market, passing by at least 70 houses and shooting more people.
The police named the other victims as Boyet Toledo; Irene Funelas, 38; Al Drio, 20; Rhea de Vera, 34, who was two months' pregnant, and her daughter Jan Monica, 3, and Adoracion Cabrera.
Ronald Bae
"There was no screaming. We locked all doors and windows as soon as we heard the gunfire from the other street. (The entire street) turned into a ghost town," recounted resident Arvin Aquitel.
Bae was laid to rest in simple and private funeral rites at the Angelus Eternal Garden in his father's hometown in Imus City.
"(Our) children are too young to understand, but they (somehow) know what happened because they heard about it in the news," Elena said.
"I apologize to his victims. Nakakahiya sa mga napatay niya. Sana hindi sila magagalit sa amin (I hope they won't take it against us)," she said.
But the long list of Bae's victims did not end there. On January 17, the CIDG recovered human remains from Bae's poultry farm in Kawit.
Cavite CIDG chief Chief Inspector Reynaldo Magdaluyo said Lopez led them to the shallow grave and told police that the skeletal remains belonged to a certain Teodulo Villanueva, who was last seen alive with Bae in 2004. Villanueva and Bae allegedly fought over illegal drug dealings.
Ronald Bae
The Kawit mass shooting has been compared with the December 17 murder of 20 school children at the Sandy Hook Elementary School in Newtown, Connecticut. The Cavite incident happened shortly after the death of 7-year-old Stephanie Nicole Ella from celebratory gunfire on New Year's Eve, prompting President Aquino to order a crackdown on unlicensed firearms.
In Cavite alone, according to police records, there are at least 7,700 unlicensed firearms, among them Bae's gun. It's a grim statistic that has people asking: How many more Baes could be lurking in their seemingly quiet and peaceful communities?
credit murderpedia - Maricar Cinco