[caption id="attachment_1698" align="alignleft" width="150"]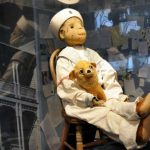 pic credit - oddee[/caption]
The well to do couple of Mr. and Mrs. Thomas Otto built their home, that is now known as the 'Artist House', in 1898. They had a son, Robert Eugene Otto and a houseful of servants.
It was common knowledge that the couple was abusive toward their employees but the tale tells of one young servant girl who was treated quite poorly and took her revenge. She was well versed in voodoo and used the knowledge to gain her vengeance. She gave young Robert, who was 3 at the time, a special doll. It was a straw doll that stood three feet high and was dressed in an adorable, white sailors outfit. Robert, who was called Gene, loved the doll and would keep him at his side constantly throughout his childhood. Gene named his new companion Robert.
Family members, including the parents, would say that they would hear Gene talking to Robert and that they would also hear Robert, in a strange, and very different voice, talking back. Many would also say that they would hear the doll giggle or catch it 'staring' at them. Several of the servants would swear to seeing the doll running up the stairs in the dark. Most just called Robert 'creepy.' When strange or unusual things happened in the house, Gene would insist that 'Robert' had 'done it.'
When Gene's parents died, Gene inherited the house and everything in it. And that included the three foot tall doll that was found perched in the corner of the attic. Gene, having always loved the doll, brought it back amongst the living. Gene's wife, however, was not so fond of Robert and made her feelings known. She found the doll creepy and told Gene she could watch the doll change facial expressions. Robert refused to listen.
One day she locked Robert back in the attic. Gene lost it and demanded that Robert be brought back down and given a room of his own. He said Robert needed to be able to look out of the window, something the doll liked to do.
Gene's wife insisted that the doll caused chaos and he finally gave in and returned Robert to the attic. But that only caused more chaos when he was told that loud stomping and wicked chortles could be heard at strange hours throughout the house coming from the attic. Gene, knowing that nothing was in the attic, went up to check, and was surprised to find Robert gone. When he came back down he was shocked to see Robert sitting in the rocking chair near the window. He collected Robert and took his back up to the attic only to return to the living room to find Robert in the chair he'd just removed him from.
Gene died in 1972, and not long after, another family, with a ten year old daughter, moved into the house. One day the little girl found Robert in the attic and once again brought him back into the light. But that would prove to be a mistake as the little girl said the doll tortured her and wanted to kill her. To this day she says that she has never fully recovered from the horror the doll put her through.
And Robert did not just reek havoc on the family members, but displayed his evil nature to strangers as he deemed fit. Many would testify to his changingExecution by hanging is, in all reality, strangulation. It restricts the person' air supply at the neck. Unconsciousness occurs between two and four minutes and death could take as long as ten minutes or more. This then is actually death by asphyxiation. facial expressions and wicked giggle that would periodically emanate from him.
[caption id="attachment_1700" align="alignleft" width="150"]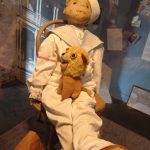 pic credit - weird us[/caption]
Robert was finally moved to the Key West Martello Museum, stationed in a glass case and put on display. But he has not stopped his antics and in fact even more people can now testify to his devilish behaviors. Employees will state that Robert turns lights off and on, runs around the museum after closing getting himself all dusty and taps on his glass case so that people will look at him. He has been known to shift his position and change expressions. Camera's sometimes fail to work when trying to take his picture and several pacemakers have been reported to fail while standing near Robert's case.
But he's definitely a sight not to miss while visiting the Key West Florida. ....If you dare.
Robert, the Haunted Doll of the Key West, was the inspiration for the movie Chucky.