---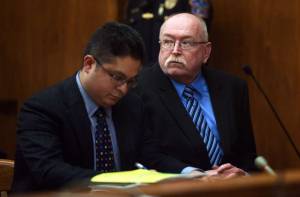 In the spring of 2010, Peter Shanley, age fifty-nine, lived with his wife Debra, age fifty-four, in Dumont. They had two sons. The older son was in his late twenties and in the military, while the younger son, in his middle twenties, lived in the basement of the family home with his girlfriend.
What Went Wrong
About this time Debra Shanley had lost interest in her husband, Peter Shanley, and in their marriage. In February 2010 she had begun to spend time at a Harley Davidson dealership in Rochelle Park. In March she purchased a motorcycle and became a member of the Harley Davidson owners' group (HOG) sponsored by the dealership. While attending HOG gatherings and functions, she befriended other members, and became close friends with three in particular. When she was home, Debra would spend hours on her laptop computer. According to the younger son, Debra's behavior "pushed Peter Shanley's buttons" and he became depressed. At some point Debra Shanley asked for a divorce.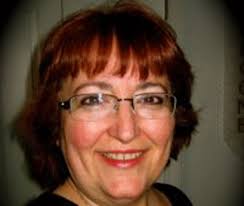 During the second week of March 2010, eleven or twelve days before Debra's death, her younger son tried to use one of her two laptop computers and discovered it was damaged and would not turn on. He informed his father, who said he had put it through the dishwasher because Debra was always on it. Peter also said he had "cut up" her motorcycle. When his son asked why, Peter said he believed Debra was cheating on him.
Two Wrongs, No Rights
The son went into the garage and used his cell phone's camera to photograph the bike. The bike's frame had been cut through in several places, both handlebars had been cut and left hanging, and the seat and tires had been slashed. The damage would cost approximately $10,533 to repair. Debra reported the damage to her laptop and motorcycle to the Dumont police but declined to file a domestic violence complaint or seek a temporary restraining order because she believed her husband intended to move out.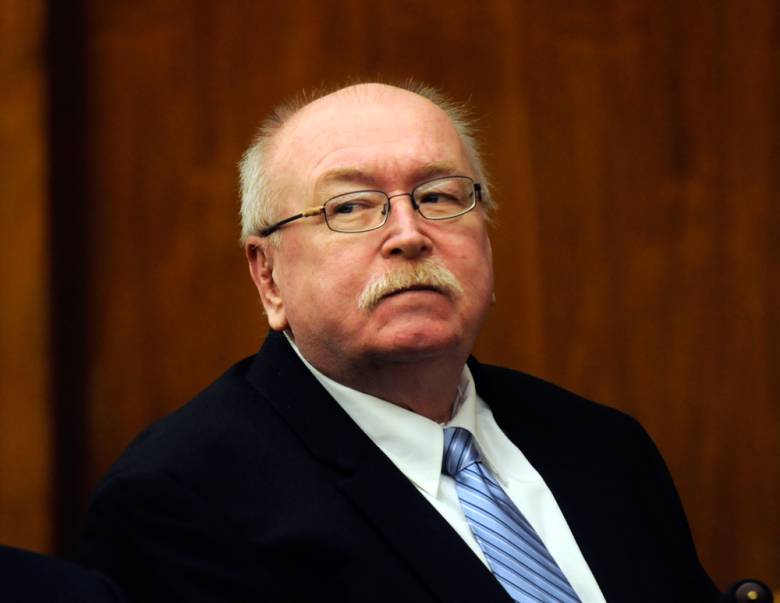 On April 2, 2010, Debra made a deposit for an apartment where she intended to move on April 15th. She told the apartment building's superintendent she was separating from her husband. Thereafter, she and Peter Shanley agreed he would move instead, so he went to see the apartment and confirmed that he would move in on April 15.
During the week of April 5, Peter Shanley and Debra drove to Pennsylvania and purchased a used Harley motorcycle for Debra. Her younger son loaned her money to use toward this purchase. On Friday, April 9th, 2010, the younger son and his girlfriend left the residence to spend the weekend at the shore.
April 10th 2010
The next morning, Saturday, April 10, 2010, Debra went on a dealership-sponsored three-hour "Saddle Up" HOG ride with her "three friends." Afterward, they all had dinner together at a local restaurant. During dinner, Debra made plans to meet two of the three at 9:00 the next morning for another motorcycle ride. After dinner, she and two of the others went to a coffee shop where they stayed until 10:30 p.m. That is when the men last saw Debra. She did not show up for the ride the following morning as planned.
That morning, April 11, after Debra's youngest son was unable to reach her on her cell phone, he phoned Peter Shanley, who said she was out and that he had fallen and broken his ankle. That afternoon, at approximately 5:30, one of her HOG friends called the Dumont Police Department and informed the police that Debra had not shown up for their planned ride earlier that day.
Officer Steven Brown dispatched Sergeant Michael Murphy and another officer to the parties' home to check on Debra's welfare. Officer Brown also repeatedly called Debra's cell phone and the family house phone. Eventually, Peter Shanley answered the landline. He told the Officer Debra was not at home, that he had hurt his ankle, and that he would come out to speak with the police in twenty minutes after he took a shower. Officer Brown relayed this information to Sergeant Murphy, who was now outside the house.
Enter The Police
When Peter Shanley did not respond to the police, who had arrived at his home, Dumont Police Chief Brian Venezio opened the unlocked front door and called out to Peter, asking him to come out. Peter told the officers they would have to come in because he had hurt his ankle. When the officers entered, they found Peter lying on the floor of a small bedroom, with a severely broken ankle. He had blood on his hands, neck, face and clothes. He had a deep cut on his neck and was unable to stand.
Chief Venezio asked where Debra was, and Peter Shanley gestured toward the room across the hall and said he had killed her. The police read Peter his Miranda rights. Peter told them that after he stabbed Debbie, he cut his own throat. He pointed to a bloodstained knife on a desk.
Sergeant Murphy found Debra Shanley lying in a large pool of blood on the floor next to the bed in the master bedroom and confirmed she was dead. She was wearing a t-shirt and underpants with a pair of black stretchy pants down around her ankles. A towel and a pair of pajama bottoms were covering her head and shoulders. A wooden billy club with a metal plug and a broken lamp were on the blood-covered bed. There was blood splatter on the ceiling and at least three of the walls. There appeared to be blood on both the billy club and the lamp.
The Medical Exam
Dr. Mary Ann Clayton, the Bergen County Medical examiner, arrived at the scene and noted that Debra Shanley had sustained numerous blunt and sharp force injuries to her head, face and upper body. Debra had a "gaping wound" to the left side of her neck. The blunt force injuries could have been caused by a bat or the club on the bed, while the sharp force injuries had been inflicted with a knife. Based upon the temperature of Debra's body, Clayton estimated that Debra had died at approximately 10:30 or 11:30 p.m. the previous night.
Law enforcement officers who processed the scene collected and photographed various items including the wooden club, a Rapala knife in a sheath, a Band-Aid box and a blood-soaked t-shirt located in the kitchen garbage can. Subsequent analysis by the State police laboratory confirmed Debra's blood was on the club and the Band-Aid box, and Peter Shanley's blood was on the knife blade, the knife handle and the t-shirt.
The police had Peter transported by ambulance to a hospital where he received treatment for his injuries, including a laceration on the left side of his head. Detective John Frazer of the Bergen County Prosecutor's Office briefly interviewed Peter at 8:00 p.m. while he was waiting to have surgery on his ankle and neck. During this interview, the detective asked what had happened with Debra, and Peter replied she had been cheating on him for the last two months. When she came home the night before, they had a "little disagreement" in the bedroom and she hit him with a lamp. He "lost his mind" and hit her with a "black jack." After that he "cut her" with a fishing knife. He left the black jack on the bed and the knife in the bedroom across the hall.
Peter Shanley Describes The Situation
The next day Detective Frazer and another officer again interviewed Peter Shanley at the hospital. During this recorded interview, Peter explained that Debra "had changed" during the last two months. She had begun fighting with him and her mother and generally "abusing" the whole family. She told him she was having a midlife crisis, had not loved him in a year and no longer wanted to be married. Their sons could not believe what was going on. Peter Shanley described the situation as a "fuckin' nightmare."
Shanley admitted he had cut Debra's motorcycle "in half" so she could not go out with her boyfriend, whom he believed to be a "guy from Oakland." He also acknowledged cutting up one of Debra's jackets and putting her brand new laptop through the sterilize cycle in the dishwasher in order to "clean all her information off."
Peter Shanley said he was "glad" he "wrecked" the bike, but he also said he did only "minimal" damage to it that would have cost about $3000 to repair. He claimed to have cut the frame in spots that he knew could be repaired. He insisted Debra and her boyfriend did another $8000 worth of damage to it in order to "total it out because of insurance fraud." He told Debra that he should have had her arrested.
Debra Just Kept Pushing His Buttons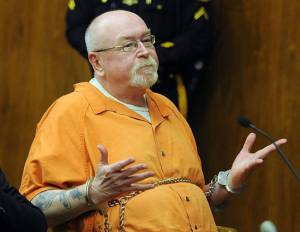 Peter Shanley said Debra left the house at 8:00 on Saturday morning to go for a motorcycle ride with her "cronies" and he had expected her home by 1:00 p.m. However, she never returned and later called to cancel their dinner plans, telling him that she was going out to dinner instead with her HOG friends. He said she had canceled a lot of plans with him lately just to "needle" him, and he was reaching his "boiling point."
When Debra Shanley finally came home at 11:30 that night Peter Shanley was waiting for her. While she was undressing in their bedroom, he confronted her about not coming home that day and then "flipped out" and started yelling when she told him she had had a nice evening out. Peter Shanley said he "might've pushed her," and she then hit him in the head with a lamp. He believed Debra thought he "was gonna go after her."
When Debra hit him, "that was it," and he took his "black jack" out of a drawer by the bed and "whacked her in the head" several times. "Unbelievably" Debra was still conscious after he finished hitting her. He walked across the hallway to another bedroom and retrieved a knife he used for filleting fish. When he returned, Debra began to beg for her life, telling him that she really loved him and that she was sorry for everything she had done. Peter used the knife on her but claimed he could not remember exactly what he did.
Peter Shanley Knew He'd Killed Debra
When he finished, Peter Shanley put the knife back in its sheath and returned it to the room across the hall. He shut the door to the master bedroom, made no attempt to summon any help, and never went back into the room. He knew, "without a doubt," that he had killed her.
A short time later Peter cut his own neck, wanting to kill himself, thinking it would be "easier than going to jail." He put his t-shirt in the garbage because it was covered with his blood. The following afternoon, he fell over a family dog, broke his ankle, and was unable to get up.
When asked to explain his actions, Peter Shanley responded: "Well, I shouldn't of done what I did, but you know, how much can you take? Thirty-five years of marriage and to get hit with a fuckin' lamp like it was my fault and being, being a rotten bitch. Sorry for saying that to you." He acknowledged he was supposed to move out in a few days, but he could not let things go that night because Debra "kept pushing my buttons, you know, needling me."
The Autopsy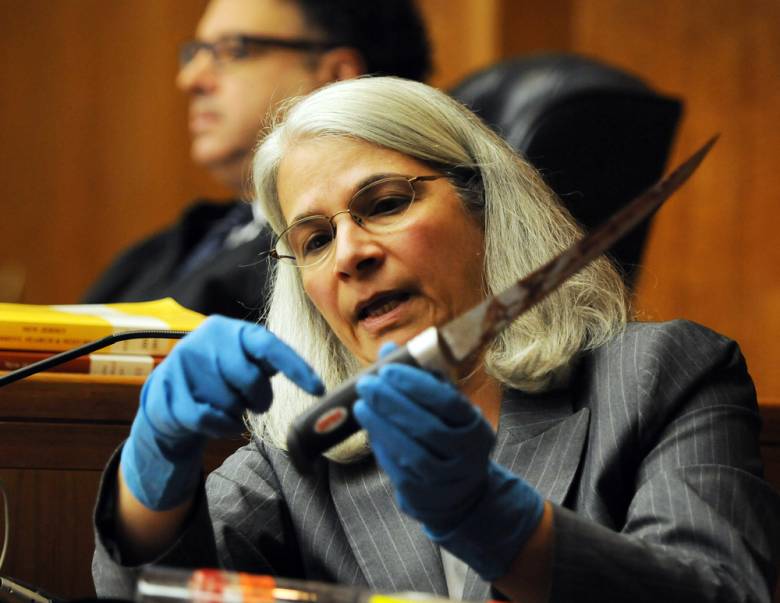 Dr. Jennifer Swartz of the Bergen County Medical Examiner's Office performed the autopsy. According to her, Debra Shanley was five feet, four inches tall and had weighed 202 pounds. She had first been struck in the head at least eight times, resulting in fifteen to sixteen non lethal blunt force injuries.
Thereafter, she had been stabbed with a knife twenty-six times. These sharp force injuries, which were sustained when she was alive, were predominantly to her face, neck and upper torso and included one which perforated her left cheek, cut her tongue and exited through her right cheek.
Another wound, six inches wide across her throat, severed her left jugular vein and left carotid artery and also cut into her trachea and the left side of her cervical spine. This wound caused Debra to bleed to death. Dr. Schwartz confirmed there were defensive wounds to Debra's hands, indicating that she had tried to ward off the attack. In other words, she'd fought for her life.
Peter Shanley Stays Quiet
Peter Shanley elected not to testify but presented two witnesses: a character witness and the HOG friend with whom Debra had the affair. The trial judge barred defense counsel from questioning the HOG friend about his affair with Debra. The HOG friend testified he met Debra in early February 2010 before she joined the HOG. From then until her death, they communicated by email at least every other day, perhaps daily. He discussed the emails with neither of Debra's other HOG friends. After Debra bought her motorcycle, they took rides together, without the others, two or three times. He was not aware of Debra taking such rides just her and one other with either of her other HOG friends. He was not aware of any relationship between Debra and either of her other two HOG friends outside of the HOG club.
The Results of The Trial
During the grand jury proceedings, the prosecutor presented the testimony of one witness, Detective Cecilia Love, the Bergen County Prosecutor's lead detective on the case. Detective Love summarized the investigation from police reports, witness statements, and the autopsy report, and she read most of defendant's recorded statement. When Detective Love concluded, the prosecutor defined for the grand jurors the elements of murder and possession of a weapon for an unlawful purpose.
In the end, a jury convicted Peter Shanley of the murder of his wife, as well as two weapons offenses. A judge sentenced him to prison for the rest of his life.
credit / (in part) / Law Justia – read the whole transcript here