---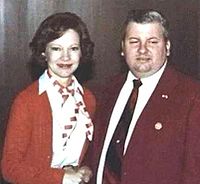 On May 6th 1978 John Gacy Jr. stood so close to the President's wife, that he could hold her hand!
And he did!
John Gacy Jr. was very active in his community and with the the Jaycees in his area. He was also a Democratic Party Precinct Captain. As head the Democratic party in his chapter, he got to meet the first lady when she visited.
The Secret Service cleared him as a man who was of no threat!
They even pinned an "S" on his jacket giving him special clearance.
The First Lady, Roselynn Carter, smiled for a photo with John She shook his hand. She gave him a photo of them standing together! And she signed it!
She probably also puked for days after realizing there had been 29 dead boys and young men buried in the crawl space under his house at the exact same time!
WTF?   Spank the Secret Service!
pic credit – Murderpedia
These books are available (and there are plenty more) if you would like to read more on John. This, in and of itself, the sheer number of manuscripts on this man's deranged life and the murders he committed, is a bit creepy all by itself!