---
1. Cristian Fernandez (13 years old)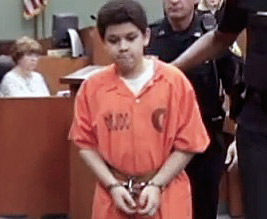 At just 13, Cristian Fernandewz beat his two-year-old baby brother to death and sexually assaulted his five-year-old half brother.
Born to a 12 year old mother and a 25 year old father and left in the care of a cocaine addicted grandmother was obviously not a real good way to start out a life. Add sexual assaults from a step father and cousins and its no wonder this kid went off the deep end! And there were other incidents reported, like killing a kitten, simulating sex acts and masturbation in school. He told a counselor: "You got to suck up feelings and get over it."
At just twelve years old, he was the youngest person to be charged with first-degree murder in Florida.